Able Moving Company is a preferred moving company for Edmond, OK residents and businesses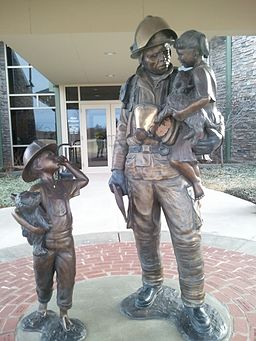 Community statistics for Edmond, Oklahoma
Population: 90,090
Location within metro: Directly north of Oklahoma City on Hwy-77
Median income: $71,825
Median house value: $196,400
Area Attractions: Arcadia Lake, Downtown shopping, Route 66, Farmers Market, Frontier City, Lazy E Arena (Visit the largest indoor arena in the country, Providing a full calendar of rodeo excitement and other equestrian events), UCO Jaz Lab, Excellent Schools
Edmond is just minutes away from many attractions and entertainment venues and is a preferred destination to many families moving to the OKC Metro.
Located on iconic Route 66, Edmond Oklahoma is consistently a first choice destination for families relocating to the OKC Metro. Located just north of Oklahoma City, Edmond hosts a number of attractions and events that provide year long entertainment and excitement while maintaining that small town feel. Able Moving Company has been the preferred movers of many Edmond residents and businesses. Able Movers will move you into your dream home that's just minutes from the many features and attractions that make Edmond a quality community.
Contact Able Moving Company for an Exact Quote for your move, or call us directly at (405) 946-2924. Or you may send us a message with your questions.



Testimonials
"...I decided to use Able Movers, Inc. because they are a local company and are family owned. I have used them three times, twice for some in-house moving. I am very satisfied with their service. They were there on time and there were no scratches on anything. The last time I used them they definitely helped make my move a smooth one."

--- Karen G., Yukon

"... The guys at Able moving were very courteous. It was a very hot day for our move, but these guys really seemed to enjoy what they were doing. We sure don't plan on moving again in the near future, but if we do, we'll call the guys at Able Moving. If anyone asks for our recommendation, we'll gladly recommend the guys at Able Moving... "

--- Tracey W., OKC
"... really liked getting a real quote before our move. Other moving companies we've used before added charges that weren't in our original agreement. Then they wouldn't finish moving our furniture until we paid the extra. Thank you Able Moving Company. It's refreshing to find a moving company that's actually honest."

--- Robert S., OKC