For over 30 years, the Able Moving family has been moving yours.
We love moving your valuable and precious items, and we've been doing it in Oklahoma for over 30 years. Able Moving Company is an Oklahoma family owned and operated business that strives to meet and exceed your expectations. We pride ourselves in being one of the few local moving companies that gives you exact moving quotes before your move begins.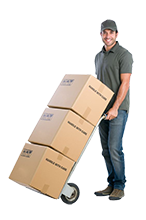 There will never be add on charges, like fuel and mileage fees or extra time, and the price will only change if items are added or removed from the move. Compare this to the other moving companies that will only charge by the hour. The longer they take, the more you pay.
We offer both commercial and residential moving services, and if you just need help moving your items around the house or around the office, Able Moving Company can do that too. We have competitive hourly rates and are available for as little as two hours or as long as you need us to complete your move.
We are fully licensed by the Corporation Commission and U.S.D.O.T. and fully insured to protect your valuable possessions. We specialize in moving apartments, residential homes both small and large, and businesses of all types. We love a challenge. Any item you can dream of, we can move it. Our residential and commercial moving services include:
Piano moving
Pool table moving
Grandfather clocks
Antiques
Hot tub moving
Landscaping fixtures
Large back yard play stations
and any other moving challenges you can provide us



Testimonials
"...I decided to use Able Movers, Inc. because they are a local company and are family owned. I have used them three times, twice for some in-house moving. I am very satisfied with their service. They were there on time and there were no scratches on anything. The last time I used them they definitely helped make my move a smooth one."

--- Karen G., Yukon

"... The guys at Able moving were very courteous. It was a very hot day for our move, but these guys really seemed to enjoy what they were doing. We sure don't plan on moving again in the near future, but if we do, we'll call the guys at Able Moving. If anyone asks for our recommendation, we'll gladly recommend the guys at Able Moving... "

--- Tracey W., OKC
"... really liked getting a real quote before our move. Other moving companies we've used before added charges that weren't in our original agreement. Then they wouldn't finish moving our furniture until we paid the extra. Thank you Able Moving Company. It's refreshing to find a moving company that's actually honest."

--- Robert S., OKC